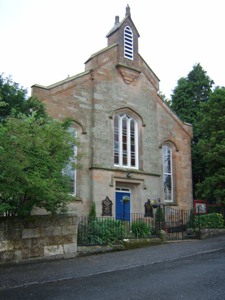 Welcome to Busby Parish Church
The Friendly Village Church at the heart of the Community.
Requests to attend forthcoming Sunday Worship can be made
here
Message from Rev. Jerry Eve
As minister of Busby Parish Church I feel we take a pride in the warmth of the welcome we provide. Whether you are a regular visitor, or coming along for the very first time, it is always lovely to see you.
Worship is on a Sunday Morning at 11.00.a.m. but there are also opportunities at various times during the year to worship
in the

evening at 6.30p.m.

excluding January, July and August.
Coronavirus Pandemic -

spiritual support can be found on the Coronavirus Pages
This Sunday morning there is a joint Busby and Carmunnock Service beginning at 11:00 a.m. via Zoom. The service will be conducted by Rev. Jerry Eve.
This week the Zoom Meeting ID:Password:
or join by using your telephone and dialing 0131 460 1196
All are welcome at this service which will be also be held in the actual buillding for a limited number of people. Please book if wishing to attend . There are 24 placings for an individual or couple / family group in the Sanctuary - one is taken for technical support - some are already booked.
A Special service will take place on the Second Sunday in Advent, 6th December at 2.00p.m. (a short service for those who have been bereaved) and will be conducted by the Rev.Jerry Eve. As places are limitied pleae book throug Alice Keith on 644 1364. All are welcome at this special service of remembrance.
Meeting ID: 923 7044 5690
Welcome from Robin Bulmer - Session Clerk
Busby Parish Church is a place of togetherness and inclusion for all. We extend to everyone young and old, friend and stranger a warm welcome to our Church in the heart of Busby.
Whether you come to Worship or share in the Fellowship of the various events or participate in the activities of our organisations or just try us out I am sure you will find your experience both enjoyable and rewarding.
Giving and receiving is at the heart of our beliefs. We give to show our gratitude for all that is received from GOD. We give to make a difference to individual lives, the life of the community and the life of the world.
Please come along and share in our giving.
A warm welcome awaits you in Busby.